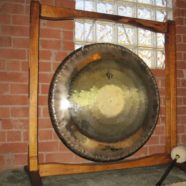 SOLD OUT
Saturday April 29th 2-5 pm $56
EXTREMELY LIMITED ENROLLMENT
PRE-REGISTRATION REQUIRED
register for the course at the studio or via email info@yoga4alltucson.org
We play to elevate spirit, release dark states and re-attune into a peaceful calm. This is a hands-on class with each student personally guided by Sangeet, a true master at gong healing who over the past 25+ years has evolved the system from the original instructions given by Kundalini Yoga Master Yogi Bhajan. You will learn many playing techniques and how to integrate effects between chakras, energy meridians and the 10 Energy Bodies. We use only Paiste gongs as these were preferred by Yogi ji for this therapeutic purpose.
While this is a beginner/beginning-intermediate class, anyone can join in. The few short mantras we use (to tune in" to the gong's energy) can be learned by anyone. Handouts will be provided.
S.S. Sangeet Kaur Khalsa

Sangeet is a KRI Senior Lead Trainer for Levels 1, 2, and 3 personally trained by Yogi Bhajan and teaching for 37 years. She is a founding member of KRI Teacher Training Executive Council since 1996 which has been responsible for development of all Level 1, 2, and 3 teacher training programs and related materials. She is the founder of Womanheart Retreats for women running for 25 years, and founder and developer of Blessings Code Numerology system, an outgrowth of the original system taught by Yogi Bhajan. Sangeet serves hundreds of families in Arizona and across the country as a dedicated counselor using numerology and other yoga-based humanology tools as well as techniques in Neuro-Linguistic Programming as a certified Master Counselor. She offers frequent workshops in numerology and humanology subjects and also teaches classes in sound therapy using the oriental gong. She has authored books and videos and is a Reiki Master Trainer since 1990. Prior to moving to Phoenix in 1987, she was an executive of several Top 50 New York corporations.