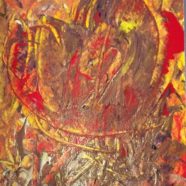 "Vitality and Stress" Workshop
Jan. 27-29. and Feb.24-26 at Yoga4All
As we are approaching a new year my true wish is that you let go of setting goals for yourself. When you set goals you simply limit yourself and you rely too much on your linear mind and your will. I personally don't recall that reaching any of my goals made me happier; I always had a next goal in mind.
We are not linear beings we are spiritual beings. Our focus is to increase our vitality so that we can raise our vibration. More than ever before we need our vibration to be strong as we get constantly reminded of the political economical and ecological chaos in our lives. We can pretend to ignore it but because everything is a vibration and we still get impacted.
In this period that the Yogis have called "The Grey Period", we can fall into our reactive patterns and be stressed or we can stand up in our light and be vibrant no matter what.
In my late teens and early twenties, I was smoking pot and isolating to protect myself from pain. I was reading, playing the guitar, listening to classical music and doing the minimum of schooling to get by because I could not fit in. In my twenties and early thirties I was coping with life with too much work focusing on being a successful executive going and coping with my suicidal thoughts. The journey toward my own vitality has been a long one and today as I look at my own self my becoming and my life there is simply a smile from my heart. The journey continues always and that is part of the vitality process.
My wish is that you choose your life force as your focus for the New Year and for this we have a great workshop at Yoga4All Tucson called "Vitality and Stress".
In this course you will explore new pathways to create more vitality within you and in your relationships, you will experience specific breath patterns and meditations to increase your vibrancy and learn great insights from Ayurvedic medicine .
If you are not a Kundalini Yoga teacher but have had a consistent practice, this course is for you. If you have any questions, contact me at tejpal@tejpal-inspires.com. If you need payment plans we can arrange this as well.
The two teachers who lead this course Sangeet Kaur Khalsa and Sevak Singh Khalsa walk their talk, are passionate about what they teach and have amazing experiences to share with us. Click here for more details.
Choose to be the light house! Come join us!
With love
Tejpal