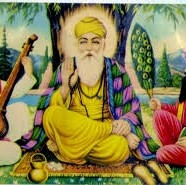 Sunday, November 13, 2016
4:30 am – 6:45 am
by donation
In honor of the anniversary of Guru Nanak's birth, our monthly tradition of community Aquarian Sadhana will offer a special treat this time!
Please join us for Japji Sahib, Kundalini Yoga and chanting Mul Mantra for 62 minutes.
We are now walking the path in the Aquarian Age. Mantra, the repetition of a cycle of sacred sounds to train the mind, began long, long ago. During the 14th Century, Guru Nanak – a great yogi, healer, and founder of the Sikh faith gave us such a tool. On morning while doing his sadhana in a river, he disappeared for 3 days in an ecstatic awakening. In this mystic state of realization he sat with his students and uttered the Mul Mantra. The entire mantra is a compass that points toward God.
To repeat the Mul Mantra is to be entranced by the depth of the soul. It forms the basis of higher consciousness. It helps us to remember who we are and vibrate that reality with every breath. It gives us the ability to live with the known and unknown will of God in ease.
On Sunday, November 13, you are invited to join with your siblings of destiny to chant this mantra in a technique called sahej sukh dhyan -easy, comfortable meditation – a comfortable way to meditate in perfect balance. For 62 minutes we will engage this sound current so that we can join the flow to bring ourselves pointing toward God, connected to our Self and fearless on the road to self-discovery.
The practice of chanting for 62 minutes stimulates the frontal lobe of the brain, pituitary and pineal glands. As the physical body adjusts to the sound current, the emotions and mental states communicate with aspects of divinity within the self.
It is deeply encouraged that you cover your head with a white natural fiber head covering when you meditate and especially for longer meditations or chanting practices. Covering the crown of the head acts as a buffer to the sensitive glands in the head and enhances the powerful meditative energies being transformed through the crown chakra, the upper palate and the eye focus. You will also need to drink water during this practice, so bring your own in a non-spill container. You may also want to bring a shawl or sweater to cover your shoulders.