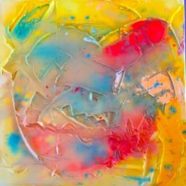 Christmas Carrol Revisited
Monday Night with Tejpal
Chanting Meditation at Every Class.
Monday Nights 6:30-7:45 pm
As the holidays season comes to its full bloom so are Christmas Carroll.
No matter what your tradition is, singing or chanting has always been an important part of any
celebration.
I was raised Catholic and as a kid the only part I liked during church service was the singing. I
was then member of a chorus and after a couple of hours of singing I always felt so good…
clearer and lighter..away from deep existential pain and anxiety; I felt spacious inside.
In my family of origin love and caring were not part of the formula but one thing was sure, when
we were all singing there was some cohesiveness. I remember these long car trips with my five
siblings in the back of an old Peugeot… The way to go was to sing, all of us, one song after
another non stop for several hours. At that moment nothing else mattered much, we even
enjoyed singing harmony with each other; we were one unit.
In my spiritual path of explorations, I was so grateful to discover that chanting was an important
part of Kundalini Yoga. Chanting is in fact a healing process where you stimulate specific
meridian points in the body and engage a conversation between your pituitary gland, your
hypothalamus and your nadis. Chanting is part a yogic tradition called Naad Yoga, there is a
divine precision in it.
I pretty much guaranty that if you chant, you will feel better more at peace with your self,
spacious and relaxed inside and more accepting of what is for you at that moment. You may get
great pleasure : a feeling of expansiveness and radiance that will help develop your intuition and
make decisions that include your spiritual dimension.
The beauty of chanting is that there is no season for it we can do it all year long. To match the
spirit of the Holiday Season we are going to do a chanting meditation every class for the next
several months.
In case you have not started your "40 Days Meditation For the Holiday Season" here is a link to
guide you.
I hope you can come! The more we are chanting together the more we heal and elevate.
Monday night Kundalini Yoga with Tejpal.
If you can breathe you can do Kundalini Yoga.