2018 Planetary & Personalized Numerology Forecast
with Sangeet Kaur Khalsa
Saturday January 27th, 1:30 -4:00 pm $29
Sat Nam, My Dear Yoga Family and Friends,
This special event I have delivered each New Year for many years so everyone can get a "heads up" on the numerology trends of the coming year and learn what gifts and challenges their new annual cycle holds for each of you. It has become so popular that I can no longer hold this gathering in my home.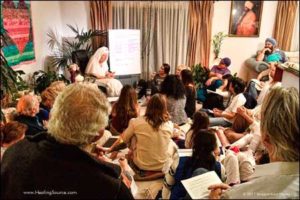 So this is the first time I am presenting this class at Yoga4All Tucson. No knowledge of numerology is necessary!
You'll easily learn your 2018 Personal Annual Cycle and what that can mean for you – for your job and finances, your love life and family, business relationships, your potential for success and how best to focus your spiritual practice. Then you'll see how your cycle can be affected by the shift to the new Planetary Cycle of 11.
That brings a high spiritual year for all of us, yet it can also be a year with spiritual and relationship challenges.
First, you'll learn the Personal Annual Cycle you're in, or anyone important to you is in. Then we'll discover the Planetary Cycle which has an enormous influence over your Personal Cycle. The interplay of these two cycles, personal and planetary, determines the opportunities that will come to you in the New Year as well as the challenges. I'll also give you some practical resources and remedies that bring strength to each person's cycle – simple things you can do.
I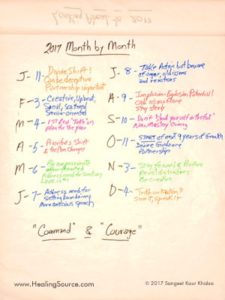 've been using and developing this ancient system brought to the West by Kundalini Yoga Master Yogi Bhajan for nearly 30 years. As I have expanded the basic teachings, the evolved system has become widely known as Blessings Code® Numerology. I teach numerology classes and serve the needs of personal and business clients across North America and beyond who regularly consult with me.
As a Master Numerologist and Senior Lead Trainer in Kundalini Yoga, I will give tips for securing the best outcomes in 2018 for yourself using yoga, breath, and meditations.
Come gather with me and prepare to build your resources so you can get the best out of the coming year!
Blessings to you always!
Sangeet Kaur Khalsa
S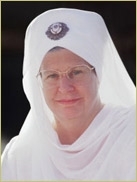 angeet Kaur is a KRI Senior Lead Trainer for Levels 1, 2, and 3 personally trained by Yogi Bhajan and teaching for 37 years. She is a founding member of KRI Teacher Training Executive Council since 1996 which has been responsible for development of all Level 1, 2, and 3 teacher training programs and related materials. She is the founder of Womanheart Retreats for women running for 25 years, and founder and developer of Blessings Code Numerology system, an outgrowth of the original system taught by Yogi Bhajan. Sangeet serves hundreds of families in Arizona and across the country as a dedicated counselor using numerology and other yoga-based humanology tools as well as techniques in Neuro-Linguistic Programming as a certified Master Counselor. She offers frequent workshops in numerology and humanology subjects and also teaches classes in sound therapy using the oriental gong. She has authored books and videos and is a Reiki Master Trainer since 1990. Prior to moving to Phoenix in 1987, she was an executive of several Top 50 New York corporations.