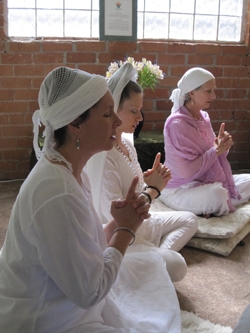 Live in Your Strength!
Take this time during the hustle and bustle of the Winter Holiday Season to build vibrant health and live in your strength. We tend to get into overdrive and forget ourselves and the Divine connection we have to the beautiful, bountiful and blissful relationship we can have with our soul.
This Mantra Experience offers you Kundalini Yoga and deep, deep meditation centered on a passage from Jaap Sahib, a prayer practiced daily by Sikhs for over 300 years. The repetition of this passage with a mudra Yogi Bhajan taught us gives the gift of self-containment and opens us to an expanded, prosperous life. We will chant for 62 minutes, allowing full adjustment of our system and communication with the Divine!
Sant Kaur welcomes everyone to come to Yoga4All Tucson for this event!
What to bring: Mat or sheepskin, Light shawl or blanket for relaxation and meditation; water in a non-spill container; head covering*
*It is highly recommended that you cover your head, allowing your meditation experience to be deep and effective. Covering the solar centers protects them and enhances focus. A light scarf or hat can be used.
A Mantra Experience chanting "Ajai Alai"
We will be chanting the Ek Achhari Chhand section of Jaap Sahib. Please join us for yoga and chanting on Sunday, December 8 from 1-4 pm! If you are unable to be at Yoga4All Tucson on this day, here is a guide for the meditation:
Posture: Sit straight in easy pose with your hands positioned in Sarab Gyan Mudra. The hands are in front of the heart center with fingers interlocked, index fingers pointing up and thumbs are crossed. The elbows are relaxed.
Focus: The eyes are closed to be 1/10 open, focusing on the tip of the nose.
Begin chanting the mantra:
Ajai Alai Abhai Abai Abhoo Ajoo Anaas Akaas Aganj Abhanj Alakkh Abhakkh Akaal Dyaal Alaykh
Abhaykh Anaam Akaam Agaaha Adhaaha Anaathay Pramaathay Ajonee Amonee Na Raagay Na
Rangay Na Roopay Na Raykhay Akarmang Abharmang Aganjay Alaykhay
Time: 62 minutes
Chanting this mantra lifts one from depression and anger."Whenever you are in trouble mentally or you are being attacked in one way or another
chant these words and opposition will dissolve in your face." – Yogi Bhajan
This mudra brings a sense of self-containment because the hands are interlocked at the heart chakra. It evokes the expansion from the planet Jupiter, the pointer finger. Practice this posture with this most exalted mantra and experience the ownership of a more expanded, prosperous existence. The many exalted qualities of God will manifest within your own psyche.
Translation:
Ajai Alai – Invincible, Indestructible.
Abhai Abai – Fearless, Unchanging.
Abhoo Ajoo – Unformed, Unborn.
Anaas Akaas – Imperishable, Etheric
Aganj Abhanj – Unbreakable, Impenetrable.
Alakkh Abhakkh – Unseen, Unaffected.
Akaal Dy-aal – Undying, Merciful
Alaykh Abhaykh – Indescribable, Uncostumed.
Anaam Akaam – Nameless, Desireless.
Agaah Adhaah – Unfathomable, Incorruptible.
Anaathay Pramaathay – Unmastered, Destroyer.
Ajonee Amonee – Beyond birth, Beyond silence.
Na Raagay Na Rangay – Beyond love, Beyond color.
Na Roopay Na Raykhay – Beyond form, Beyond shape.
Akarmang Abharmang – Beyond karma, Beyond doubt.
Aganjay Alaykhay – Unconquerable, Indescribable.