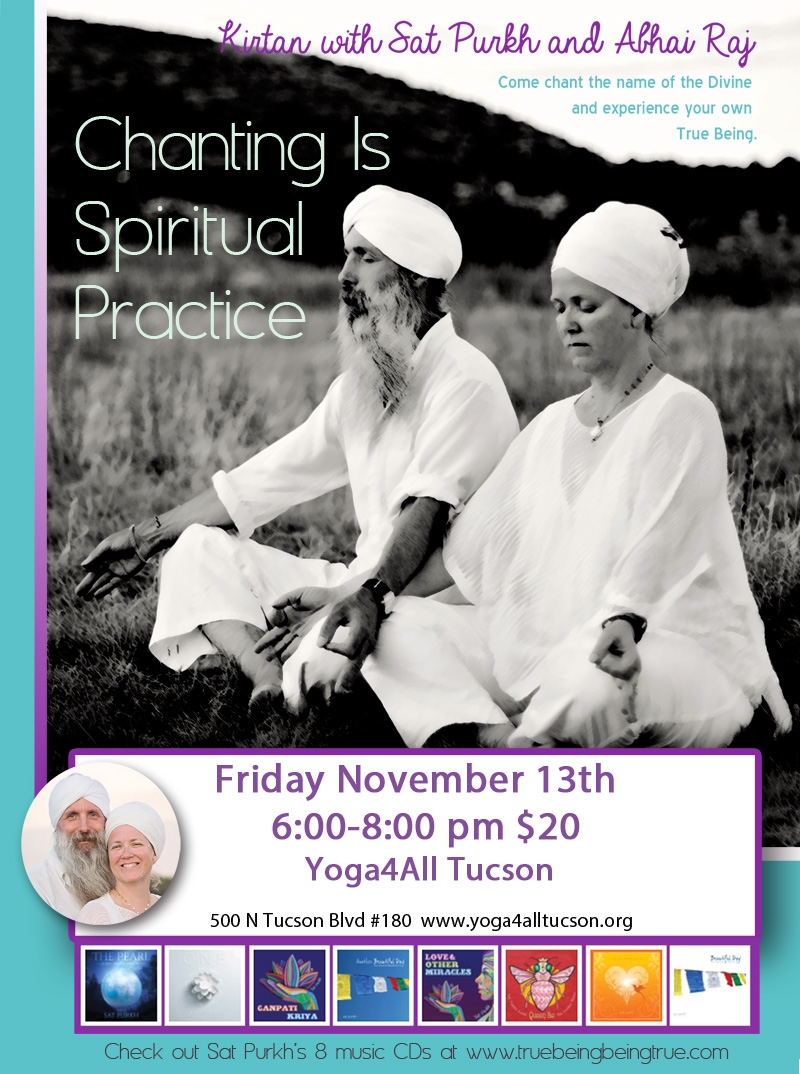 Chanting is Spiritual Practice
Kirtan with Sat Purkh & Abhai Raj
Friday November 13th 6:00-8:00 pm $20
Come join us for an evening of music, mantra and meditation with Sat Purkh Kaur Khalsa. Sat Purkh specializes in the Teachings of Yogi Bhajan and will be joined by her husband, Abhai Raj, for a devotional evening of kirtan and meditation.
A KRI Certified Kundalini Yoga Instructor and Practitioner as well as a Professional Trainer in the Aquarian Trainer Academy, Sat Purkh is known for her work in Sound & Mantra as well as Humanology and Women's Teachings; in 2008 she authored Everyday Grace: The Art of Being a Woman, an introduction to the Women's Teachings of Yogi Bhajan.
She recently launched an annual course, Woman: The Adi Shakti, which awakens women to the Goddess within. She has eight albums of sacred music, Nectar of the Name, Beautiful Day: The Aquarian Sadhana, Queen Be: The Goddess Within, Love & Other Miracles, Another Beautiful Day: Live Aquarian Sadhana, One: Love, Life, Light, Ganpati Kriya and The Pearl: Maiden, Mother, Crone. She lives with her husband and their menagerie of animals, and is always at work on her next album of sacred music.
See www.truebeingbeingtrue.com to learn more.