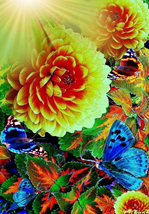 Senses of the Soul Series with Jiwan Shakti
Tuesdays 5:30-6:30 pm May 27th-July 22nd
Begin your journey to healing and self-love. Join me in exploring the "seven heavy heroes" of fear, desire, anger, depression, grief, guilt, and shame. Learn their gifts, what they are trying to tell you and allow them to serve you rather than control you.
This dynamic 9 week series is based on GuruMeher Khalsa's book Senses of the Soul
"Working by your heart means using your feelings and emotions to lead you to your spiritual sense of existence." – Yogi Bhajan
"Sometimes we operate under the misconception that we can control the circumstances of the outside world. What we can do is control our inside worlds. That is a gift given to us. And that is where we must start." – Yogi Bhajan
Emotions are the Senses of your Soul
"Emotions are the part of your sensory system that brings in information about how things are going for you. Their purpose is to let you know what's blocking your path toward increased wellness and what to do to move toward that well-being. When emotions achieve this purpose, they give you positive feedback. You feel better!" GuruMeher Khalsa