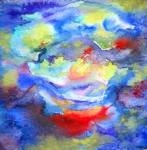 Crisis Kit For Transitioning In to The New Year
40 days meditation for the holidays starts November 23rd!
"You have the right to create harmony and you have the right to create crisis, nobody creates them for you. (…) There is just one way to get out, and that is to grow." YBJ
Emergency Kits are usually used when you are in some form of crisis. And when you are, you may experience the following with your kit: some products are obsolete, you don't know how to use it and you don't have what you need in it. In brief, you have not prepared yourself for challenging situations.
In school, nobody taught you how to fail; nobody talked much about depression, anger, rage or anxiety. You have learned to focus on making the right choices to avoid these situations.
However in life the most important aspect is not making the right decision but instead mastering bouncing back. When you focus on making the right decision you put too much pressure on yourself and you build up an ideal self that is disconnected from your truth, from your Satnam. From there when you face an undesirable situation, you go into blame, guilt, judgment or shame; you are stuck. Your ego is running your life and you learn absolutely nothing.
The only place we can learn from is the heart. The only place we can grow from is the heart. Making the so-called wrong decision, getting an undesirable outcome, or experiencing deep pain are situations we all face. The problem is not what we have created in our life but how we relate to it. When we feel depressed about our depression, frustrated about our frustration, negative about our negativity we are still operating from a place of ego.
In this series, we will explore some of the gems the Kundalini Yoga tradition has to offer to help us stay aligned no matter how much pain, discomfort of failure we may experience. This is the perfect time of the year to practice this technology as we are entering into the holiday season. No mater what religion, culture, and background you come from this time may bring beautiful experiences and it will create some disturbance as well. You may be able to hold a high frequency of energy but some people around you will be challenged emotionally, financially or health wise. "Be the light house."(YBJ) and stay authentic; stay connected to the vastness of you.
Come Monday night to create inner stability in time of transition to the New Year. "If you can breathe, you can do Kundalini Yoga".
To strengthen our vibrant self, we start a 40 days meditation on November 23rd. More information will be given in a few weeks.