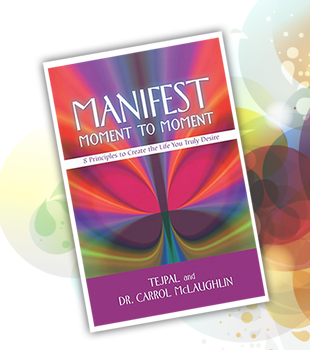 Maximize the Power of Your Chakras To Manifest The Life You Truly Desire
Workshop With Tejpal and Dr.Carrol McLaughlin
Very often, when you want to create changes in your life, you use the brilliance of your mind to figure out options and solutions. Most of the time, your mind is not going to help you simply because the manifestation process does not work like a goal setting process. To create the life you truly desire and make shifts, you need to tap into the many dimensions of your being. When you systematically engage your physical, emotional, heart and spiritual dimensions you open up a horizon of true possibilities that will enhance your day-to-day life.
One of the very successful ways to create lasting changes that will uplift you is to work with your energy field. You can do this by working with a key dimension of the human energy field, the chakra system.
By doing this you are looking at your patterns and can assess clearly what boosts your energy and what blocks you. When we eliminate blockages and see ourselves with new clarity, we are able to successfully make shifts in many parts of our lives. This allows you to overcome your old "stories" and patterns, and create exciting new opportunities for change that will bring more joy and meaning into your life.
Each chakra has a specific purpose and a vibration that can serve as a basis for clearing and reenergizing elements of your life that may be standing in your way to manifesting what you desire.
These elements include:
CHAKRA 1: Space
CHAKRA 2: Time and Flow
CHAKRA 3: Self-judgment
CHAKRA 4: Relationships
CHAKRA 5: Truth and Finances
CHAKRA 6: Limitations
CHAKRA 7: Gateway to abundance
Join us for this creative and life changing experience!
Tejpal and Carrol will also have their new book "Manifest Moment To Moment" for purchase. Come and get your signed copy!
Fees for the workshop with Tejpal and Dr. Carrol McLaughlin: $65.00
Spaces are limited, register early!
To attend the workshop click here: www.ManifestMomentToMoment.com/workshops-events