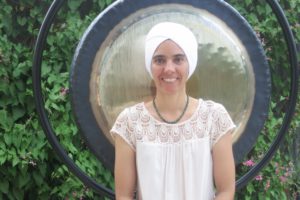 Everyone is welcome to join us for this Summer Solstice event.  Ramgeet Kaur will guide you to open the heart and activate the neutral, meditative mind with breath work and yoga. Then, relax into a 31 minute gong meditation to clear the chakras. The vibration of the gong, the primal sound of creation, cleans the aura, clears the subconscious mind and facilitates healing in the physical and energetic bodies.
Sat Nam, my name is Ramgeet Kaur. I've been practicing Kundalini Yoga and Meditation as taught by Yogi Bhajan since 1994, and began teaching in Summer 2015.
Guru Ravi Kaur, our teacher, said the number one rule in yoga is, "Have fun!" When you come to my class, we're going to laugh, dance, sing, breathe powerfully, move with precision, discover our physical and emotional boundaries, and deeply relax with the gong. The second rule is to not hurt yourself while having fun. We will modify poses to best serve our physical bodies. In my personal practice, I regularly sit still while visualizing a perfect pose.
Ramgeet means song of God, or one who sings the songs of God. I look forward to singing and practicing with you.