Unveil the Secrets with Gurutej Kaur
A Kundalini Yoga Workshop

Relationships and Energy are the source of everything yet we are rarely trained how to have either. Now is the time to get more tips and tools to have empowered relationships. Unveil the fountain of youth to make your relationship with your self and your others have an ease You may not have thought possible. You will gain insight to your reactions and tips to no longer react to situations. The world becomes a better place when our relationships are more.
This workshop will focus on:
3 ways to strengthen your nervous system so you can call on you emotional intelligence.
5 ways to awaken your intuitive intelligence so you have the power to act and impact situations.
7 guidelines for a powerful relationship
Remember there is no perfect relationship just finding ways into Relationship Wisdom. Getting Wisdom tools to stretch time and space so you can truly be in the Grace, you can be Grace. This class will be very deep. If you are ready to dance and romance the Infinite then this class is for you. We will change your brain waves with deep meditations and tools.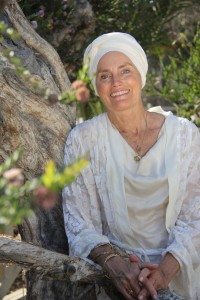 Gurutej Kaur is known as the Energy Guru. She has known since she was six years old that she wanted to lead others to their own inner self. She is a born leader, a creational genius, and a visionary thought leader. Her energy brightens your day, and her gift for lightness, comedy, and humor radiates with every breath and every word of her powerful message. An original disciple of Yogi Bhajan and a founding practitioner of Kundalini Yoga, Gurutej is one of a handful of Kundalini Yoga Masters in the world. She has taught people for over 40 years to connect to their essence through healing, meditation, yoga, and chanting. She lives and breathes the meaning of her Sikh name, "the one who brings you from darkness into light at the speed of light." True to her name, Gurutej Kaur takes you to the light with her enthusiasm and love. She has created yoga centers, books, DVDs and yogic products, specializing in elevation for couples, women, and children. www.gurutej.com