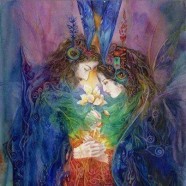 "Relationship in life is a process of life meant to enlarge your personality and gain your personality….Relationship is nothing but a totally extended experience of self."  –Yogi Bhajan
June sees a new series, "HMS RELATiOnSHIP," sail in to Y4AT's summer harbour. Yogi Bhajan described relationships as relays. We relay our projection, words and even our aura to the other person we are in relationship with. This creates a reaction in that person–they can either accept or reject that relay. If the relay is accepted, then that person creates our personality in their psyche and in connection to us. In other words, every relationship offers us an opportunity to gain or lose; our personality can either be fulfilled or diminished.
In order to establish our radiance and reality and, therefore, to be engaged in authentic relationships, we must be able to recognize, receive and generate high frequency energy in our relays.  This starts by exploring our own soul and clearing away the subconscious blocks that tend to spill over as emotional and commotional dramas.
The focus in this series will be to explore our relationship to ourselves, our divinity and all the other people in our web of connections.  Through a variety of kriyas and meditations we will heal any wounds accumulated through our life journey and reap the many benefits that come from being authentic in your interactions including a robust immune system, lower incidences of depression and anxiety disorders and a longer life expectancy. Life will automatically become more fulfilling and rewarding!
If you are ready to come from a place of Infinite expansion as opposed to subconscious limitation and would like to elevate yourself and others through your relays, then be sure to jump on board the HMS RELATiOnSHIP every Saturday morning at 9:00am.