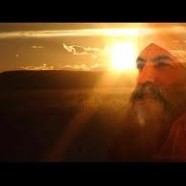 As a child, I wanted to do things quickly! I started Kindergarten at 4, skipped 3rd grade and couldn't wait to go away to college. I thought that all this was to hurry up and become a teacher of special needs kids. So, at 16 ½ , my parents helped pack me up and drove me to Buffalo, NY where I began college. Little did I know that studying "teaching" had other designs on me!
By the time I was a junior in college, my husband and I had been married by Yogi Bhajan and we were living in Guru Ram Das Ashram. My husband started teaching class at the ashram about 40 days after we moved in and I soon followed. We attended our first summer Solstice, which took place in the Northern California. When we returned, we were leading morning sadhanas, doing lots of "karma yoga" (now it's called seva) and teaching Kundalini Yoga at Buff State. We lived in a small spiritual community that was part of a huge network of ashrams, and it was called 3HO.
In 1974, I graduated and began teaching Special Education students in a public high school. Later on, I taught elementary age children. I spent a summer at our Eastern Regional Headquarters doing seva in the 3HO offices in D.C. and then later went off to Tucson to intern at the 3HO Drug and Alcohol Rehabilitation Program (Superhealth). In those days, we were quite mobile, and wherever we could learn more of the teachings, we'd go!
We grew up in 3HO and when I needed guidance, beyond that of my own intuition, I would write letters to "Yogiji" and would wait for a response. His letters were always filled with love and wisdom and would begin with the salutation "My Dear Daughter in Divine." Then Yogi Bhajan would tell me something deeply profound. I would usually read the letter a dozen times, hoping to really understand. Some letters contained a meditation or a special request to read a certain prayer or chant a shabad. He ended every letter with "In the Name of the Cosmos which prevails through everyBODY and the Holy Nam which holds the world, Humbly Yours", and he signed every letter personally. I felt so honored. We all did. In many letters, he mentioned the importance of teaching people Kundalini Yoga. His love for us, who he considered his children, was unconditional. He was clear that we had a destiny to fulfill and as our Spiritual Teacher, he was here to help us reach it.
After helping with the administration of Khalsa Women's Training Camp for many years, one of his secretaries asked if I would be willing to help her with a project. She said Yogi Bhajan had approved me to assist her with getting his personal correspondence delivered more quickly to the now thousands of students who were writing to him. I had an appointment with him later that day, and he sent me to Guruka Singh of Sikhnet to set up process. I felt so blessed to be a part of this project. Certainly there were others he could have chosen for this. But he asked me so that I could be close to him in some way after each summer camp. I was struggling with some stressful circumstances and he knew that was what I needed!  Each time I typed "In the Name of the Cosmos…" I could feel his presence! After a couple of years, things were back up to date again and I was thanked for my service. I knew I had received much more than I had given.
I love to watch and rewatch the videos we have from The Yogi Bhajan Library of Teachings. We are very fortunate that so much was recorded for all of you now.
You may not have a letter, but know that Yogi Bhajan knew and told us throughout his life with us, that these teachings are what will allow us to handle the pressures of the times. I am grateful to be a part of this legacy to allow these teachings to reach you. He told us to expect you all and here you are! Please use these precious teachings in your daily spiritual practice to be healthy, happy and holy (whole). Join us in a class, a workshop, come to Aquarian Sadhana, a Healing Circle, a Full Moon Meditation. Be a part of Yoga4AllTucson and vibrate the Cosmos.
Sat Nam!
Join Sant Kaur for Kundalini Yoga Saturdays 10:30-11:45 am and the next Mantra Experience April 13th 1:00-3:00 pm