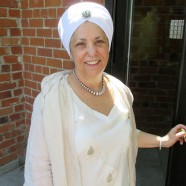 We were on a little break between classes at Yoga4All Tucson at our Showcase event. I was out to get a little sun and hydration. "I like your head covering. What is it called?" This was a very innocent question from a sweet student of ours. She was visiting with a newcomer. The intent of that day was to "show" who we are, what we do, and meet and greet one and all.
I looked at these beautiful women and said, "Thank you, it's called a turban." The women smiled. Then we started talking about how sensitive human beings are and how important it is to pay attention to that sensitivity. I explained that the solar centers right under the scalp have the ability to store energy and if the head is covered during yoga and meditation activities, there is an opportunity to conserve that energy and let it circulate through all ten (yes, ten!) of our bodies. I explained that without it, I would be allowing all that juice to just dissipate. We then had a discussion about all the different kinds of head coverings worn around the world.
Turbans were introduced to Kundalini Yogis because Yogi Bhajan was a Sikh and this was a part of his lifestyle. When I began my journey through the world of lifestyle change, the changes came fast! Many of us took on the physical form and spiritual discipline of Sikhism in tandem with Kundalini Yoga. It was the thing to do for me. In each and every class, I love seeing the creativity used in crafting and wrappinghead coverings.
There is a great reverence in the practice of caring for one's self. The combing of hair and putting it up, aligning the antennae of the radiant body gives a nice boost. Crowning my hair with the tying of a turban reminds me of my path. Sharing the technology is a joy. Try covering your head for 40 days. See what this experience can do for you.
I enjoyed sharing with these women. I loved the receptivity and innocence. It was a short pause in the day and I appreciated those moments before I went back into the studio to teach. Thank you for reminding me of my identity. We are, we are!
For more information on covering the head, visit 3HO Website on Daily Routines.