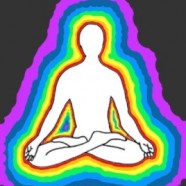 Kundalini Yoga's Got Your Number Series
Our journey of learning about and experiencing our 10 bodies continues this month with the Aura which is our 7th body. It is the body of inspiration through word and sacred sound current.
The aura protects us from other people's negativity, and gives us sensitivity to things in our environment in present time. The aura was given so we can reflect ourselves. A strong aura and arcline enable us to have a better sense of our own identity.
"This intuitive capacity is natural. The real action behind it is that you become sensitive to the auric radiance of the other person. That radiance comes from the subtle bodies that compose the unseen human structure. All you have to do is compute the signal of the aura as it comes to you". YOGI BHAJAN
Saturdays 8:30-9:45 am with Jiwan Shakti