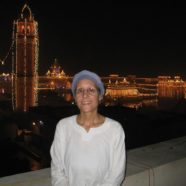 We are excited to welcome Jhan Ram Krishan to Yoga4All Tucson this June.
Saturdays June 4-25th
8:00-9:30 am
$12 single class/punch pass/Infinity pass
The 4 week Long Time Sun series, wraps around Summer Solstice and utilizes the seasonal shift to fuel some "soul-polishing" that encourages our ability to reflect our most brilliant Divine Radiance. Each 90 minute class, which meets at 8:00 am, each Saturday in June, will include a meditation based on celestial communication, Yogi Bhajan's subtle, speedy, but highly effective means to relax and purify one's entire being. The Long Time Sun series offers a mid-summer sequence for cultivating an expanding awareness of each person's divinity and light.
June 4 – Opening Up Wide
June 11 – Rising Up by Rooting Down
June 18 – Reflecting Radiant Light (Full Moon/Solstice class)
June 25 – Re-Claiming Inherent Divinity
May this Yogi Bhajan prayer inspire our practice:
Oh my soul, give me the light. Show me the path. Give me the excellence and beauty to be bountiful, blissful, kind, and compassionate, and true to myself. Sat Nam.
Jhan Ram Krishan Kaur has been practicing yoga with love and devotion for nearly four decades. She began teaching yoga for seniors in 1988 for the University of Arizona's Project Age Well while earning her Masters of Science degree in Rehabilitation.
In 2010, Jhan Ram earned her Hatha Yoga Teacher Certification. Four years later, she trained as a kundalini yoga teacher at the Kundalini Research Institute in Espanola, NM. Her philosophy as a yoga instructor is to nurture each student's self-awareness of their own beauty, grace, divinity, and joy.
In her professional career, Jhan Ram has developed inter-generational programs offering social work and counseling services to people of all ages, including students in K-12, college students, and seniors. She has also worked extensively with blind and visually impaired populations as a rehabilitation teacher and an Orientation and Mobility Specialist (COMS).
Throughout her adult life, she has traveled extensively. In 2004, she walked several hundred miles of the Camino de Santiago route in Northern Spain. Four years later, she went on another pilgrimage, this time to many of India's sacred sites, including the Golden Temple in Amritsar. In the past year, she taught courses on the psychology of health, happiness, and consciousness for the University of Arizona's study abroad program in Orvieto, Italy.
For the past ten years, Jhan Ram Krishan has developed community through a wide range of events here in Tucson, including Global Chant, Really Really Free Market, and PlayHaven, a non-profit organization she co-founded with her partner, Victor. She is the co-author of the Amazon bestseller, Repose: The Potent Pause.