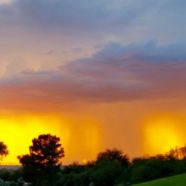 Tohono O'odham people called July, "Jukiabig Masad," meaning month of rain. During monsoon season, refreshing rainstorms often follow molten hot mornings. Let us mirror this unique season through our practice of Kundalini Yoga as taught by Yogi Bhajhan.
May our radiance mirror that of the summer sun.
May our breath cool us like an evening breeze.
May our hearts be healed and renewed, as the desert is refreshed and reborn after monsoon.
Come join Jai Kartar  as we practice an energetic kriya, cooling pranayam and celestial communication meditation designed to heal our heart so we may celebrate the magic and mystery that the native peoples called "Jukiabig Masad.
July 16th 10:30- 12 noon
$12 single class/punch pass/infinity pass
Jai Kartar Kaur has been practicing Kundalini Yoga as taught by Yogi Bhajan since 2002. As a certified level one instructor, Jai Kartar strives to create an inclusive environment that is both nurturing and challenging.