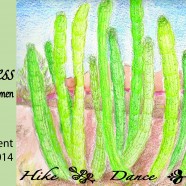 Nature into Nature: Opening from the Stillness is a yoga & meditation retreat for women in Organ Pipe Cactus National Monument–an exquisite expanse of nearly pristine Sonoran Desert, 150 miles southwest of Tucson.   Along with the ancient, practical, and profound technology of Kundalini Yoga—including chant, dance, meditation, pranayama(breath techniques), & yoga—we will open ourselves up to receive inspiration, insight, and healing from the desert itself.  We will practice throughout the day to create an internal state of stillness—shuniya–into which we will plant the highest vibration, rhythm, and pattern of our being—to remind ourselves of our true and wild nature. We will take that true and wild nature and merge with the true, wild nature of the desert; and of each other.  We will integrate each of the tools presented and experienced through conversation/discussion, art, writing, hiking, dance, living simply out of our tents, eating great food together, and being still beneath 360 degrees of desert sky.   I have found nothing as quick as Kundalini Yoga to cut through the trance of conditioning; and nothing as spacious as the desert to cut through time and compel me toward the beauty of the limitless soul.
If this speaks to you, JOIN US for this fun, freeing, and truly transformational experience. This is a camping retreat.  Participants will receive a list of gear and materials to bring on the retreat.  To deeply honor Mother Earth you are invited not to buy anything new that you think you will only use once.  Within reason, I can provide gear that you do not currently own.  The $200 fee includes all teacher fees, camping fees, three lunches, two dinners, and two breakfast.s   A non-refundable deposit of $100 is requested  to reserve your place at the retreat.  The second half of the payment will be collected when you arrive.
To register and for more information or questions please email me at: piaseckibarb@gmail.com.  Please note there is no online registration.
Love and light,
Sant Saroop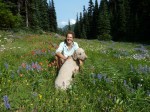 Barb Piasecki (Sant Saroop) began teaching at age 12, when she was hired to teach Catholic religious studies to a 6 year old boy with autism.   She expanded her practice the following year coaching a boy's "6 man" flag football team.  It was during those fabulous football seasons that she realized the joy of motivating people to show up, keep up, and do their personal best.  At age 16, Barb, and her sister, Joan, began organizing and leading week-long canoe trips for other teen-aged girls.  She continued to organize extended wilderness trips including expeditions to the Arctic.   For 26 years, as a middle and high school math and science teacher, Barb helped teenagers connect to their gifts and personal power, through compassion, connection, creativity, engaged learning, and so very much humor.   After 20 years of a strong Hatha Yoga practice, the discovery of Kundalini Yoga in 2006 was the most beautiful lightning bolt of a gift from the Universe for her.    Barb says,   "It changes my life everyday in some way."  Sant Saroop has been teaching Kundalini Yoga since 2006.  Along with Yogi Bhajan in the Kundalini Yoga tradition, she has studied many teachers from other traditions including Pema Chodron, Tara Brach, Eckhart Tolle, Adyashanti, Gary Zukav, Dzigar Kongtrul, Anthony de Mello, and many others.