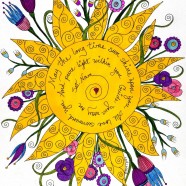 "You determine your worth. Nobody else can do it. Whatever worth you give yourself, that shall be." Yogi Bhajan
What's weighing you down and holding you back from manifesting your dreams and living your true "Sat Nam"? Many of us carry around the extra weight of unresolved issues from the past or feelings of guilt and hidden anger. This can create low self-esteem, food cravings, addictions, blocked emotions, health issues and physical inflexibility.
Find, face and address some of the issues that might be weighing you down. We will use mantra, kriyas, meditation, breath work and relaxation to help change the messages we feed ourselves. When the messages change we can feel lighter and more joyous. And when we feel more positive about ourselves watch out—because nothing is beyond our abilities!
Please join me every Tuesday from 5:30 -6:30 pm, April 15, 2014 – May 20, 2014