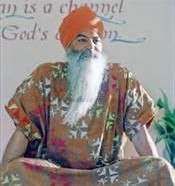 Prayers and Blessings to You!
Kundalini Yoga with Sant Kaur
Saturdays 10:30am-11:45am
June 6- August 22*
"Prayer is tapping energy from my unknown. Whenever you want to reach your own unknown, you pray. And the only channel through which your unknown can reach you for help is the power of your prayer." –Yogi Bhajan
Astronomers explore the Universe. Philosophers explore life and love. What do you as a Yogi explore? Do you search, reach and aspire in your practice to experience? Kundalini Yoga can give us awareness into our deepest nature. We can shed the skins of the past and find a deep well of energy, awakening Shakti energy with Bhakti.
Please join me for an energetic series allowing us to know we can call on the Divine through prayer, meditation and chanting. Connect and ground yourself with Kundalini Yoga this summer to give yourself the gift you truly deserve- to be bountiful, blissful and beautiful!
All are welcome to this class; no previous yoga experience is required.
"If your mind goes along with you it is a blessing. If your mind obeys you it is a super blessing." – Yogi Bhajan
*In observance of Independence Day, there will be no classes on Saturday, July 4 and Sunday July 5th