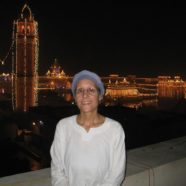 SATURDAY SUMMERTIME SERIES
Week 3 honors summer's peak light, power, order, and fertility.  At this auspicious time, we make a prayer of body, mind, and spirit that affirms our own brilliant light, power, creativity, and divinity.
We will salute the sun and practice pranayam that gives power, strength, and vitality to warm up.
Then our first kriya builds the energy of the Sun/ Surya – enthusiasm, extroversion, action, strength, and clear thinking – within us.  The second simple kriya, Lion's Paws, fires up our lymphatic and endocrine systems, stimulating our pineal gland, and expanding the radiance of our brain's projection.
Our relaxation and meditation mantras continue the devotion to "opening the solar plexus" and enhancing our Cosmic connection.  Then, we will close with a Celestial Communication version of the Long Time Sun song.
This set will leave you feeling golden and divine; in "your expansive radiance" right in line with the Solstice Saturday. That is what it is all about -magnifying our light in the world. It won't be a super difficult set, but it will have an expansive effect.  Following our practice, we will celebrate with Golden Almond Milk.  You are warmly welcomed to class  @ Yoga4All  Tucson, Saturday, June 18th at 8am.
Long Time Sun  Blessings to all,
Jhan Ram Krishan