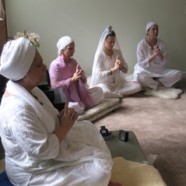 "Jaap man sat nam, sada sat nam."- Guru Nanak "Oh my mind, ever vibrate Sat Nam, The Truth."
Kundalini Yoga is filled with all kinds of techniques…. praanayama, postures, mudras, eye focus, silent meditations and meditations with sound, movement, deep relaxation and, hopefully, a great feeling of peace and happiness.
One of the most accessible techniques we share in class is chanting. Chanting engages the heart and throat centers, allowing us to connect to the divine energy of the Universe. There are pressure points and meridians in and along the mouth that the tongue stimulates during the practice of chanting. Add a comfortable yogic sitting position (or you can even be sitting in a chair), a mudra and eye focus, and you are ready. A head covering allows the solar centers protection.
We introduce you to many mantras in class and you may feel more inclined to one or another. You know from your own experience how each mantra affects you. It is, in itself, an experience of consciousness.  Yogi Bhajan gave us many opportunities to chant. His given name, Harbhajan, means "Song of God" and he loved to sing, but did not think he had the best voice. It did not stop him from chanting! He taught us to chant to Guru Ram Das to embody the values of service and humility and Ong Namo Guru Dev Namo to be connected to the Golden Chain. He would tell us that when we chant, the Heavens bless us; that a mother's prayer in the form of a chant can bring a destined soul to her family; that a reversal of fortune can occur with the chanting of a specific mantra; that miracles can be created by chanting Dhan Dhan Ram Das Guru; that negative energies can be repelled by uttering a beautiful shabad; that a broken heart can be mended; that when chanting Mul Mantra during the preparation of a meal healing energy is brought to the food. Many of us who have been part of the 3HO community have stories of how a particular chant or shabad has changed our lives. It is a blessing.
In preparation for writing you today, I chanted a mantra that Baba Siri Chand, a son of Guru Nanak, gave Guru Arjun when he was composing Sukhmani Sahib and was experiencing writer's block. Chanting can open new doors of the mind for higher sensitivity, perception, creativity and clarity. It also gives the feeling that we are all one voice. I invite you to come to our Mantra Experience on Sunday, December 8, from 1-3 pm. We will chant Ajai Alai, a section of Jaap Sahib, for 62 minutes. Chanting this mantra builds the radiant body, lifts depression, and helps us dissolve challenges. Come and live in your strength at Yoga4All Tucson!
-Sant Kaur Khalsa

A Mantra Experience chanting "Ajai Alai"
Ajai Alai – Invincible, Indestructible.
Abhai Abai – Fearless, Unchanging.
Abhoo Ajoo – Unformed, Unborn.
Anaas Akaas – Imperishable, Etheric
Aganj Abhanj – Unbreakable, Impenetrable.
Alakkh Abhakkh – Unseen, Unaffected.
Akaal Dy-aal – Undying, Merciful
Alaykh Abhaykh – Indescribable, Uncostumed.
Anaam Akaam – Nameless, Desireless.
Agaah Adhaah – Unfathomable, Incorruptible.
Anaathay Pramaathay – Unmastered, Destroyer.
Ajonee Amonee – Beyond birth, Beyond silence.
Na Raagay Na Rangay – Beyond love, Beyond color.
Na Roopay Na Raykhay – Beyond form, Beyond shape.
Akarmang Abharmang – Beyond karma, Beyond doubt.
Aganjay Alaykhay – Unconquerable, Indescribable.