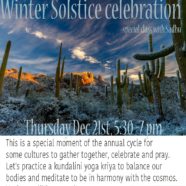 Thursday, December 21st from 5:30 to 7pm
Winter Solstice is a special moment of the annual cycle for some cultures to gather together, celebrate and pray. Let's practice a kundalini yoga kriya to balance our
bodies and meditate to be in harmony with the cosmos.
Yogi tea will be served!
You can use the 5 class punch, unlimited pass, or buy a single class for this event. Just a reminder we accept cash or checks at the studio or pay online with Paypal. If purchasing online, please bring your Paypal receipt to the studio.